Our third trip into Nepal's Mustang region, this time in the Mustang Winter. This Himalayan kingdom is known for its fascinating culture, pristine vistas, and mysterious archaeological sites.We will take time to explore the sky caves, monasteries, and visit with locals during this quiet winter season. In the usual Spring and Autumn season, locals are busy with their planting and harvesting pastoral lifestyle. Winter allows time for visiting and learning more about their unique way of life and history.  Join us.
Leadership.  Karma Samtuk Gurung will be guiding this trip. He is from Mustang, and now resides most of the year in California. More about him here.
Proving Ground. Come challenge yourself on a remote adventure trek with unique Tibetan Lopa culture.
Trust. 4000 meters is no place to be short on resources. We make the proper advance preparations to ensure that our team will be properly cared for, from airport to summit to airport.
Our Style.  Each day starts out with eggs to order, fresh bread, french press coffee or tea, fruit, and muesli or porridge. We generally have hot drinks at 730 and breakfast at 8, getting on the trail around 9. Trekking days are usually 3-5 hours, stopping for lunch around 12. We have a picnic style lunch. with rice or pasta, biscuits, Italian cheese, fresh salad, fruit, and some other snacks. Getting into camp mid afternoon, we set up our dining tent, member tents, toilet tent, and kitchen tents. Each member has their own two person Mountain Hardwear tent, and the dining tent is stocked with solar charging for electronics, a compact Himalayan library that is pertinent to the region, snacks including Indian Pakoras, and Chai Tea or herbal teas and infusions. Most trekkers choose to use the afternoons reading a book down by the river, in the dining tent, or in their own personal tent.  Camp is comfortable and relaxing. This Mustang trek is mostly a teahouse trek, so we will be staying with the Lopa people in their homes. We will be bringing the camping equipment for exploratory purposes, and will have our own cook for preparing meals. Interested and have questions? Get in touch. More details below.
Wildlife of the region include Snow leopard, Blue Sheep, Lammergeier, and Pallas Cat to name a few. We will have the binoculars along for spotting. Jumping back to "a day in the trekking life" section, dinner is at 7, with first a course of soup, and then 3 to 4 dishes with rice or pasta. A trekkers favorite is pizza some nights. Most nights we are looking at our watches before 8 pm, and most people are asleep by 830, sleeping all night until 7. Your body needs more sleep at altitude, and also after trekking days. We move on the trail as people please. Some choose to go at a quicker pace, others choose to go slowly. We keep one staff at the front, and one at the back.
Features
>Wilderness trek through the Himalayan kingdom of Mustang
>Teahouse-style trek (sleeping in lodges each night)
>Wild exploring in remote areas
Price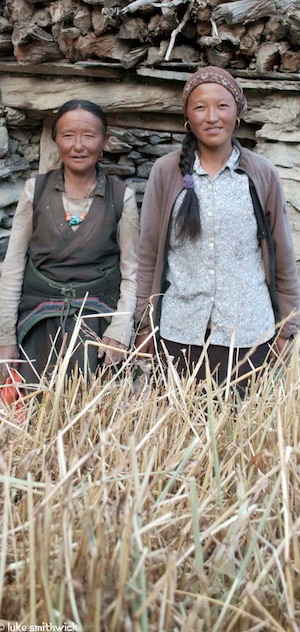 US$3480
trip deposit US$1000
max 6 participants
Hotel
Dalai La
p: +977 1 4701436
e: info@dalaiboutiquehotel.com
Dates
Sunday 28 December 2017 – Friday 13 January 2018
Leader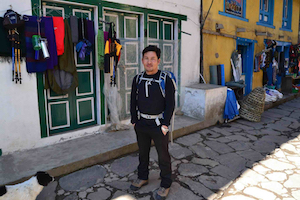 Our service includes
2 nights single hotel room in Kathmandu
1 night shared double in Pokhara
All other accommodation while present on scheduled trip itinerary
Ground transportation by private vehicle
'Himalaya Alpine' Expedition style mountaineering trip: Delicious meals, french press coffee and herbal teas, all porterage on approach/retreat, local guides and staff, Mountain Hardwear expedition tents, equipped dining tent, experienced local leader
Solar charging for electronics
Himalaya Alpine Guides duffel bag
Our service excludes
Trip/medical/rescue insurance
International flights
Nepal Visa
Meals while not on trek (Kathmandu, Pokhara)
Puja cost (allow US$20)
Items of a personal nature (laundry, bar bills, gratuities, etc.)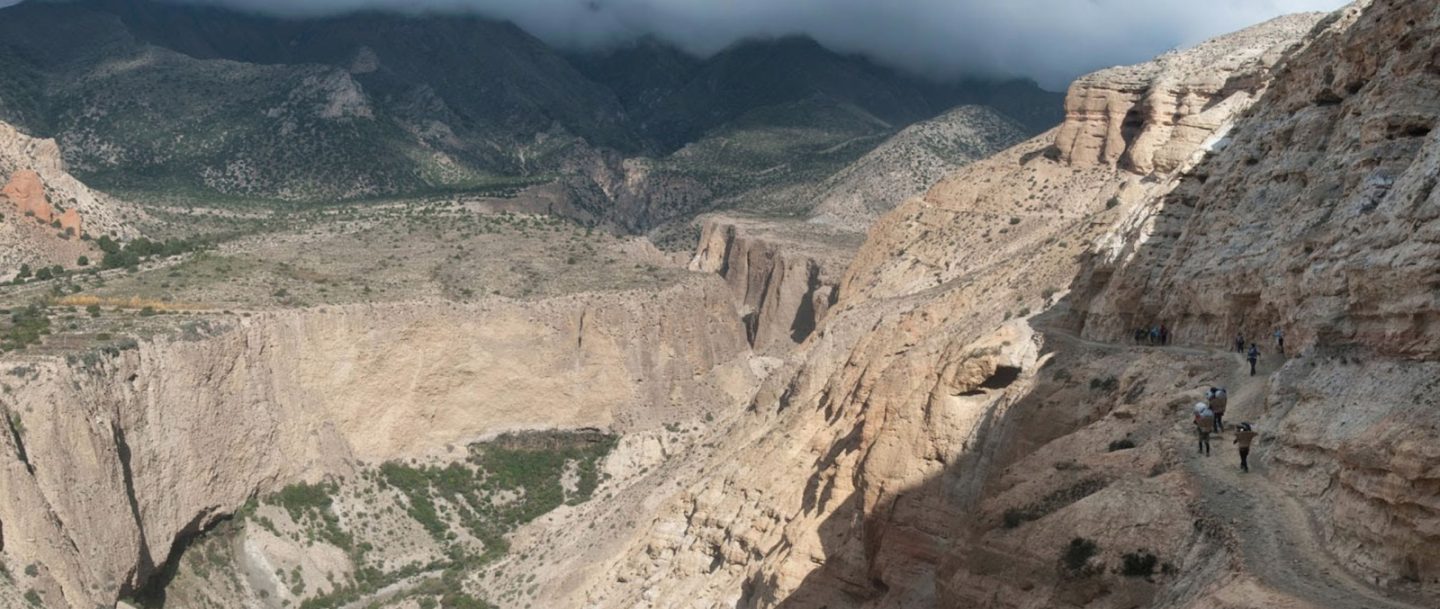 Outline Itinerary
Day 1 – Kathmandu – Monday 28 December 2017
2 – fly Pokhara
3 – fly Jomsom, trek Kagbeni 2858 meters
4 – trek Chele 3050 meters
5 – trek Syangboche 3475 meters
6 – trek Ghemi 3520 meters
7 – trek Tsarang 3500 meters
8 – trek Lo Manthang 3700 meters
9-11 – Lo Manthang monasteries 3700 meters
12 – trek Dakmar 3810 meters
13 – trek Ghiling 3806 meters
14 – trek Chussang 3050 meters
15 – trek Jomsom 2700 meters
16 – fly Pokhara, fly Kathmandu
17 – depart Kathmandu – Friday 13 January 2018
Detailed Itinerary
Day 1 – Kathmandu – Monday 28 December 2016
Today the trip begins. We will be staying at the comfortable Dalai La Boutique Hotel, and everyone will be arriving at different times from all over the globe. As people arrive, the guide (Karma), will do gear checks to check that you have all the proper equipment for the trek, and also do any last minute shopping in Thamel for small items.
2 – fly Pokhara
We will have an early breakfast, and then head to the airport in a private jeep, flying to Pokhara, which is a short flight of 30 minutes. A jeep will pick us up at the airport and bring us to the Lakeside Retreat in Pokhara. You will have the afternoon to explore Pokhara by foot, and unwind from your air travel to Nepal. There is also shopping opportunities for trekking gear in Pokhara if anything is forgotten.
3 – fly Jomsom, trek Kagbeni 2858 meters
Another morning flight, and we are in Mustang (!). The first day of trekking, we'll walk along the Kali Gandaki river, where fossil shaligrams can be found. Today's walk is 3 or 4 fours, so a nice start.
4 – trek Chele 3050 meters
Further up the Kali Gandaki we go. We'll walk along a roller coaster of double track, then drop down to the gorge, and cross over to climb up to Chele.
5 – trek Syangboche 3475 meters
Today begins with a climb up the Chele gorge, crossing a pass into the village of Samar for lunch. From Samar, we descend down to a cave monastery before a final trek up to Syangboche for the night.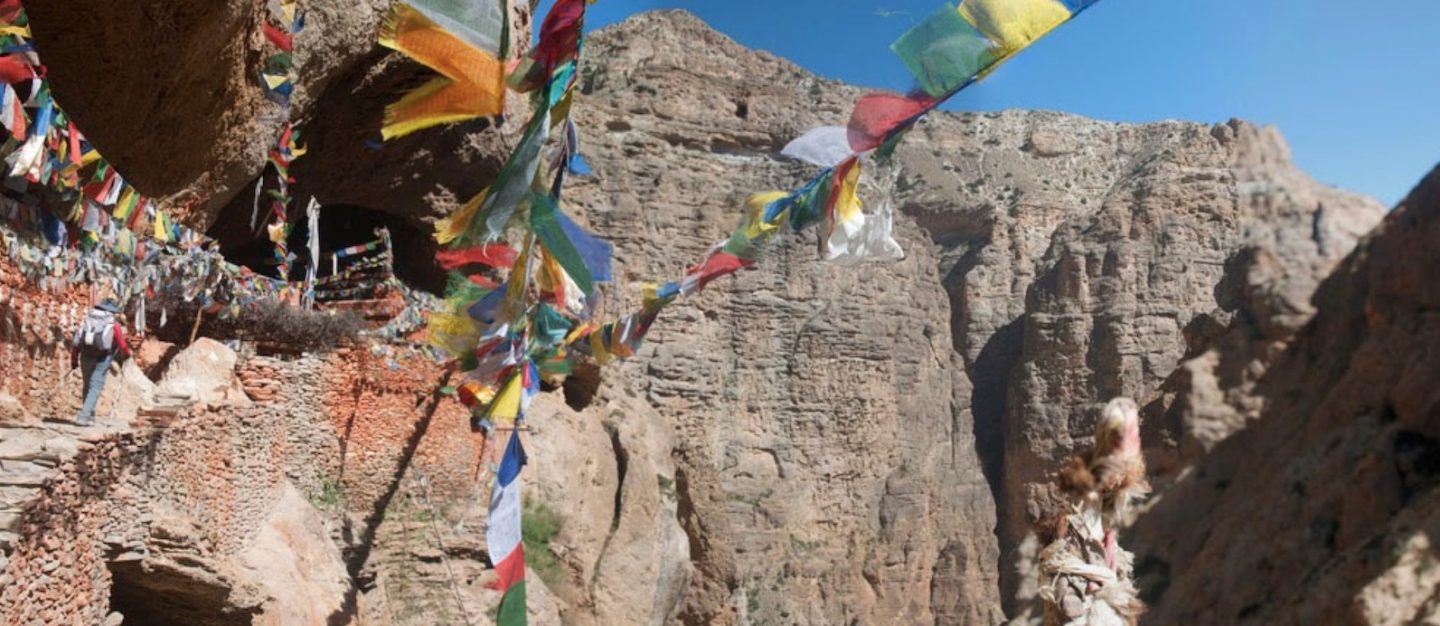 6-8 – trek Lo Manthang 3700 meters
Further trekking! Karma will decide the route through this section. There are several options, will some spectacular monasteries to visit. We will make a route that appeals to everyone's interest as we're a small group.
9-11 – Lo Manthang monasteries 3700 meters
Rest and exploration. We'll make a tour of the walled city of the capital of the Lopa kingdom, including monasteries, and even some cave sites.
12 – trek Dakmar 3810 meters
Our return trek to Jomsom begins, we'll make a different route than the one we made on the way in. Always exploring.
13 – trek Ghiling 3806 meters
14 – trek Chussang 3050 meters
15 – trek Jomsom 2700 meters
16 – fly Pokhara, fly Kathmandu
17 – depart Kathmandu – Friday 13 January 2017
Tashi Delek and Namaskar.