---
From our guests:
"We got great value in the experience, food, regional expertise, Luke!!. Perfect attitude all around!"
-E. Grapa
"This was, without question, one of the most magnificent trips I have done. The best trekking food I've ever had."
-A. Slinger
"The level of service was amazing, brilliant food, tents up quickly, being helped over any potential difficult piece. It was a fabtrip."
-I. Caroline
"A great trip. I'd thoroughly recommend it to anyone wanting a different trekking experience."
-M. Cook
The Chadar trek expedition is the most stunning winter trek on the planet. We travel to Leh by air in the heart of winter, trek up the semi-frozen Zanskar river gorge, and get to experience Zanskari culture in the best season. Wildlife is another highlight of the trip; Ibex, snow leopard, blue sheep, and lammergeier; experiencing these hardy species is a unique treat. We trek with local staff and guides, who've trekked the river since childhood and know its history, its subtleties, and when to sing to scare away the demons that are believed to lurk beneath the ice. True adventure in a wild land. We are the safest team on the river, hands down. No one else has swiftwater and ice rescue training. Receive instruction for safe travel on the river, and go with a professional.

"Something hidden, go and find it, go and look behind the ranges." -R.Kipling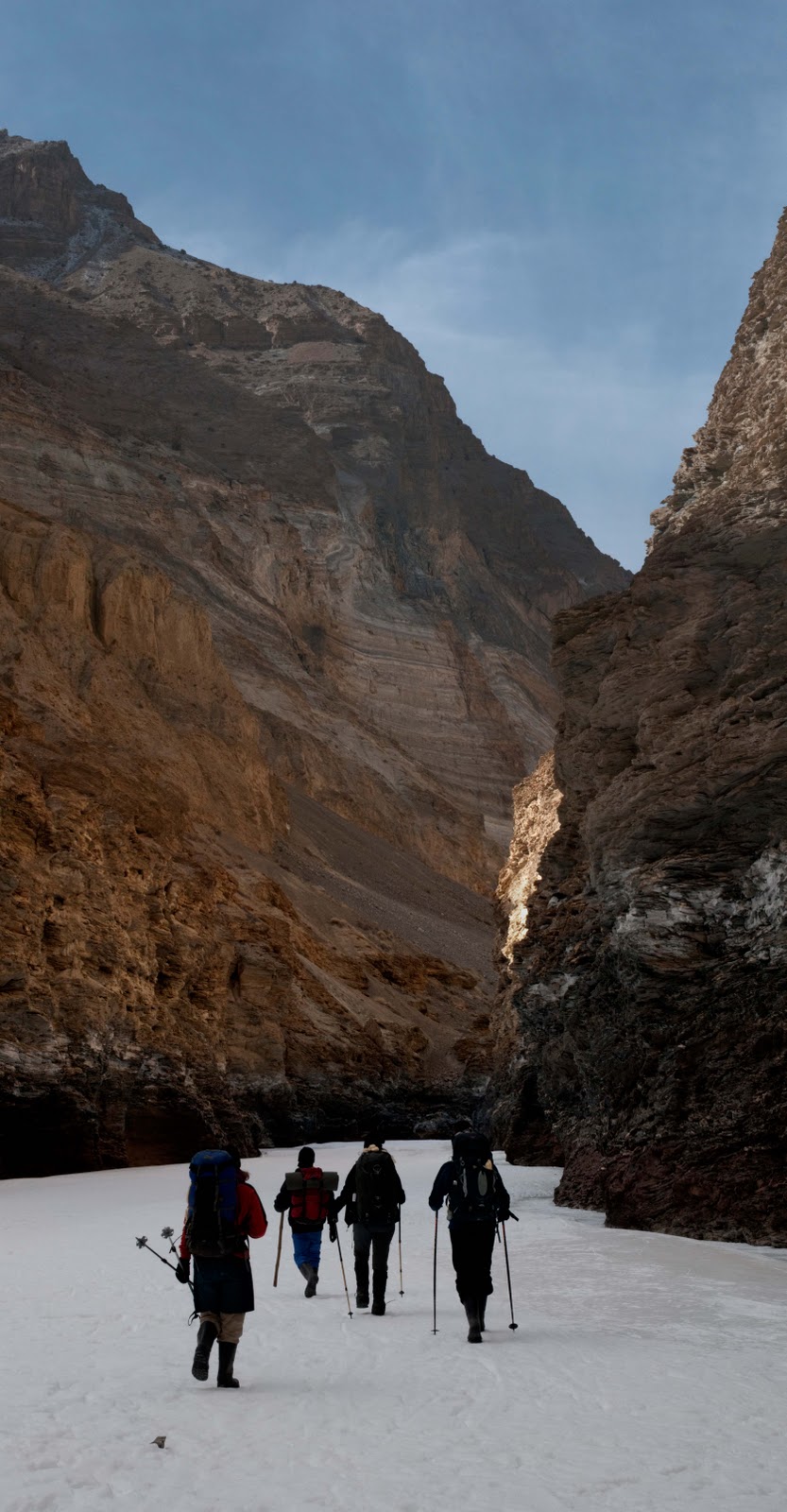 Trekking the Chadar on the semi-frozen Zanskar river.
2018 Chadar Trek Expedition
Dates: ( there are several treks running, say hello for more information)

Cost: US$1???, varies according to trip length and number of participants

Contact us, we can help.
What's the difference between us and everyone else? We provide all cold weather equipment, sleeping bags, western leader trained in swift water rescue, no budget on our food shopping (healthy meals with three to four dishes for dinner, large healthy breakfasts, and hot lunch on the trail), excellent lit dining tent, compact library of pertinent literature, solar charging for electronics (when there is sun). After you do the math, we are the best value.
Leader
Luke Smithwick

What's included
Airport transfers
3 star heated hotel in Leh, single supplement

All other accommodation while present on scheduled trip itinerary
Group transportation by private vehicle
'Himalaya Trekking Guides' expedition-style trekking:
Delicious meals, french press coffee & herbal teas, all porterage on trek, western leader, local guides and staff, single, roomy Mountain Hardwear & Big Agnes tents (double for couples) and our 'equipped' dining tent with solar charging for cameras.
Well equipped porters for personal equipment, you carry only a day-pack with thermos, warm layer, and camera.
What's not included
Meals while not on trek, domestic flights, rescue insurance, India visa, international flights, bar bills, laundry, tipping and other items of a personal nature.
Gratuities and Extra Costs

Allow approx $250 for meals (while not on trek), drinks (on trek), and tips. We recommend $100-$150 per trekker thrown into the tips pool for the porter staff.
Itinerary
Day 1 – arrive Leh 3500m
2 – Leh 3500m
We will go tour Shey and Spituk monasteries today. This day is important in case your flight was delayed yesterday. We'll feel the altitude so not much hiking today.
3 – Drive to Chilling roadhead and trek to Tilad Do camp 3100m
On to the Ice we go. We are now at a lower altitude than Leh, and it feels better.
4 – Trek to Gyalpo camp 3170m
5 – Trek to Dib Cave 3225m
Tonight we camp next to a huge cave where the local guides and porters will sleep next to a roaring fire.
6 – Trek to Nyeraks camp 3390m
View a video of this section
7 – Trek to Oma Chu, drive Zangla 3400m
We trek the one of the more impressive sections of the gorge, and then come to the road in Zanskar. We'll hop in a jeep and be in the warm traditional Zanskari home of Lobsang in Zangla tonight. Welcome to Zanskar!
8 – Jeep to Karsha, Sani monasteries 3491m
Today we'll tour the monasteries of Zanskar, and get to see what winter life is like in a remote Himalayan pastoral valley.
9 – Explore Jumlam gorge 3491m
A treat that few have experienced. The Jumlam gorge starts just out of Zangla, and we are excited to explore its "Chadar" today. Not even the locals have been up here in winter (!).
10 – Jeep to Oma Chu / Trek Nyeraks 3500m
11 – Trek Dib Cave

12 – Trek Gyalpo Camp
13 – Trek to roadhead, drive Leh
14 – Leh
Important contingency day, if we have an extra day we will go snow leopard sighting from Leh. If the ice goes out on the river and we have to wait for it re-consolidate from upstream ice, we'll need this day. Also useful if we get some snow while in the Zanskar valley.
Day 15 – depart Leh
Note your domestic flight is a fine weather flight only and can occasionally be delayed. Also note that flights can be delayed by fog in Delhi in winter.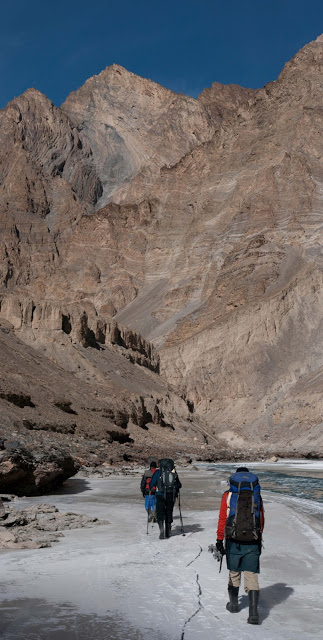 trekking in the sun on the frozen Chadar.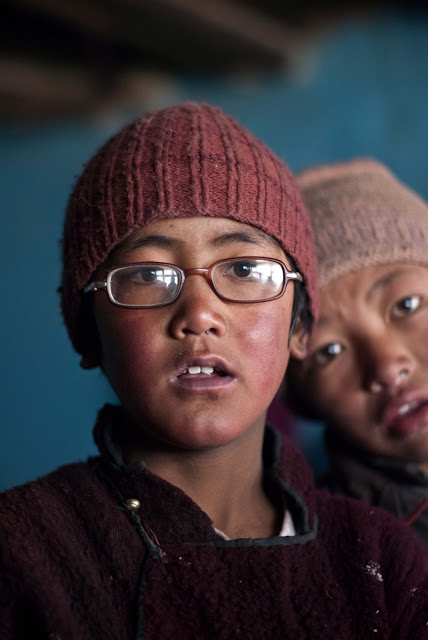 Zanskari boys pose for a photo in their red woolen gonchas, typical dress for a Zanskari.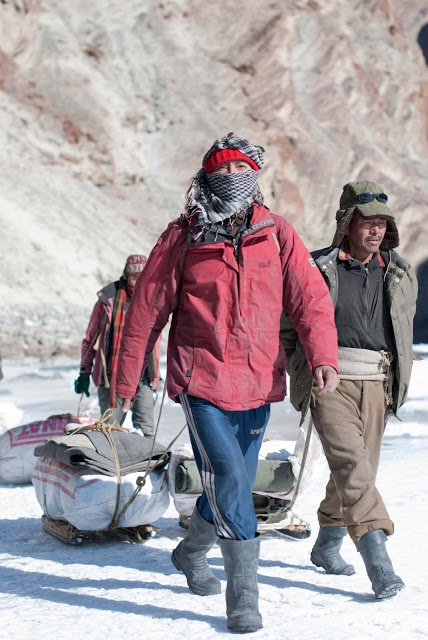 Tiles and Tashi (Pidmo) ply their trade as ice porters on the Chadar. A way of life has evolved into a profession. They will join us on the river to assist with expedition supplies. We will visit their families and stay in their homes in Zanskar, gaining a glimpse into their way of life.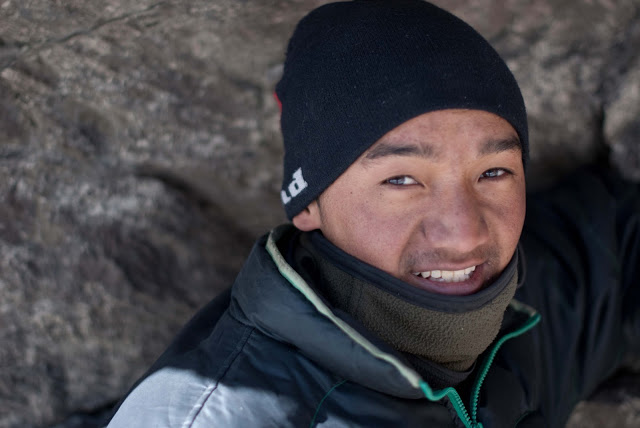 Lobsang Otzer (Pidmo) will be the head local guide on the trip, his 25th trip on the river. His enthusiasm and warmth is contagious, if only we can contain his singing to keep the wildlife in view.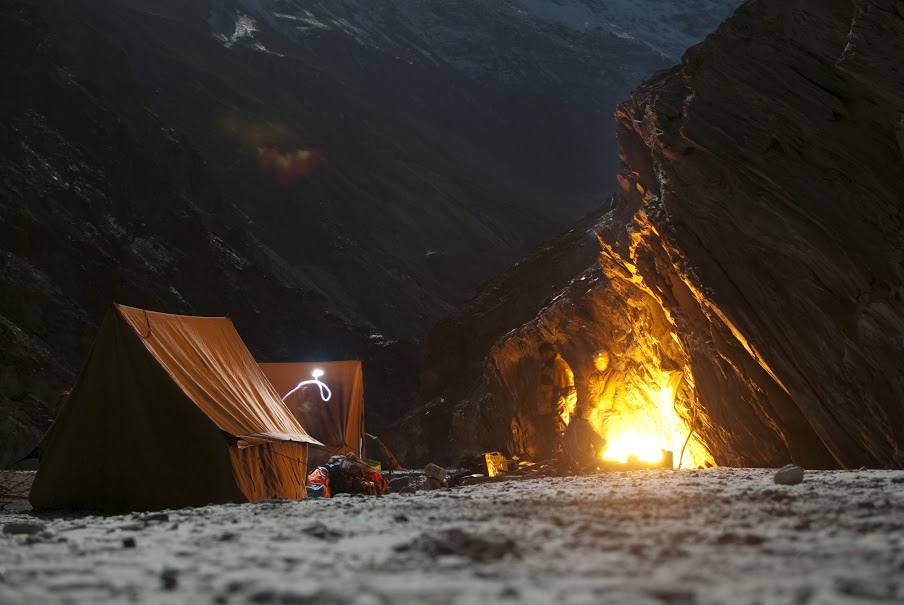 Local guides huddle around the fire in camp on a full moon night, the ice of the river cracking and popping in flux.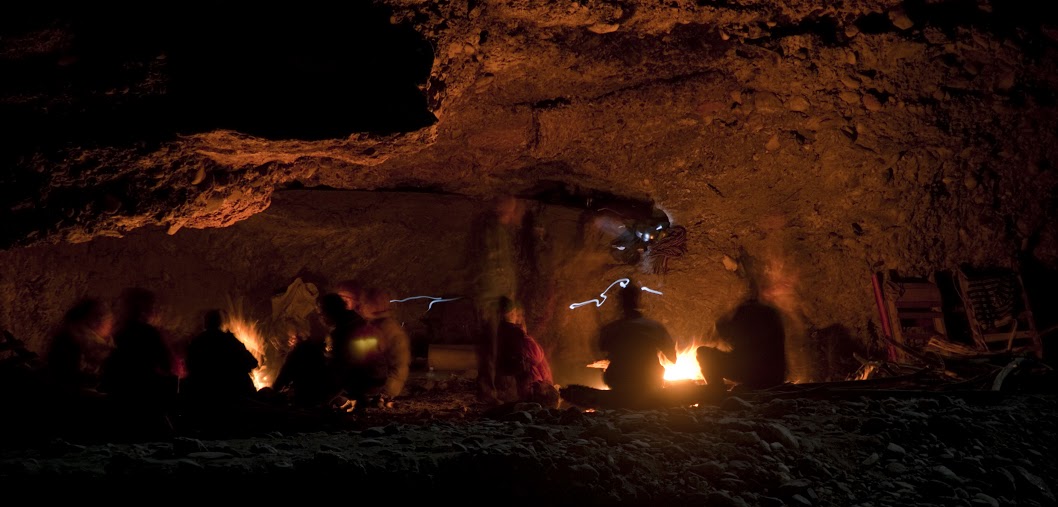 Zanskari's swap stories and laughter in a cave on the river. Most locals sleep in caves while on route.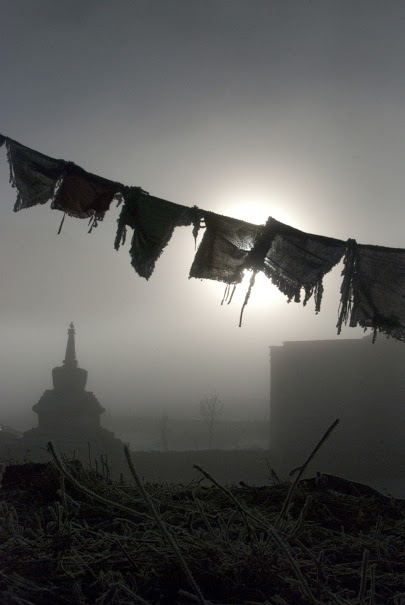 Morning fog in the Zanskari village of Pidmo.
Are you coming? Get in touch.