This slideshow requires JavaScript.


The magic 7000 meter mark? This is the trip for you, with sky cave exploring in Tibetan cultural Mustang on approach, a warm-up climb of 6346m Mt. Saribung (which is conveniently the height of the higher camp on Himlung, eliminating the need to go up and down the mountain and then up again), and a focused single climb of 7126m Himlung. You must have mountaineering experience prior to joining this climb, and a good level of overall fitness.  We'll trek through forbidden Mustang, where traditional Tibetan villages huddle in ochre valleys with white snow capped peaks rising above. Harvest time mostly completed, we'll visit with villagers as they ready for winter to lay its white cloak over the Himalaya. Higher we trek, finally reaching the Phu valley and our base camp; where our big climb begins, but not before a warm-up ascent of 6346m meter Saribung.  This is the best itinerary for an expedition climb of Himlung. When you do your homework, we are excellent value.

Trip Features
+ Climbing 7126m Himlung
+ Excellent trekking on approach through Mustang with a warm-up climb of 6000m Saribung

+ Small, focused climbing group
+ Extra days on mountain for weather and unmentionables

Dates
Cost


Leader
Luke Smithwick

read the blog post from the 2012 Himlung Expedition
Our service includes
airport pick-ups and drops, entrance fees, Nepal peak royalty fee and TIMS permit, 4 nights hotel single supplement in Kathmandu, group transportation by private vehicle, entrance fees and permits, 'Himalaya Alpine' expedition-style climb: All lodge meals, all meals and hot drinks in base camp and on mountain, french press coffee & herbal teas, well equipped and insured professional porters, knowledgeable and experienced western and sherpa guides, local staff, single, compact library of books pertinent to approach trek, full medical kit, PAC bag (for when needed), Solar charging for all electronics in dining tent, weather forecasting, access to satellite phone, Kathmandu sightseeing.
Our service excludes
meals while not on trek, helicopter rescue and medical insurance, Nepal visa, international flights, equipment rental, alcohol and soft drinks, laundry, tipping and other items of a personal nature.
Gratuities and Extra Costs
Allow approx $250 for meals (while not on trek), and tips. We recommend $100-$150 per trekker thrown into the tips pool for the crew.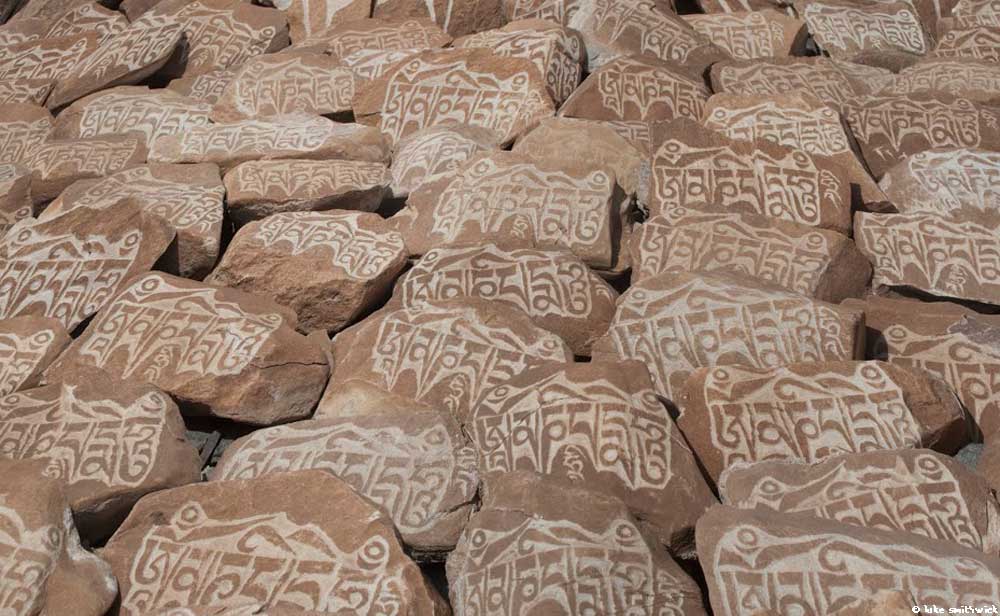 Early arrival
Arriving early can be a great way to begin unwinding, we will arrange airport transfer and hotel, no problem.
Outline Itinerary
Day 1 – arrive Kathmandu 
2 – fly Pokhara
3 – fly Jomsom / trek Kagbeni 2720m
4 – trek Tsaile 2810m
5 – trek Syangboche 3660m
6 – trek Ghami 3520m
7 – trek Tsarang 3560m
8 – trek Lo Manthang 3810m
9 – rest Lo Manthang 3810m
10 – trek Dhi Gaon  3400m
11 – trek Luri Gonpa 3850m
12 – rest Luri Gonpa 3850m
13 – trek Ghuma Thati 4708m
14 – trek Damodar Kund 4990m
15 – trek Japanese Base Camp 4615m
16 – rest Japanese Base Camp 4615m
17 – trek Advanced Base Camp 5800m
18 – climb High Camp 6042m
19 – climb Saribung 6328m
20 – descend ABC 5800m
21 – trek Khumjungar Himal 6200m
22 – trek over Col to Brikuti BC 4950m
23 – trek Phu 4000m

24 – trek Himlung BC 4900m

25 – rest day 4900m

26 – climb camp 1 5620m

27 – climb camp 2 5990m

28 – climb camp 3 6320m

29 – climb camp 4 6400m

30 – climb Himlung summit 7126m

31 – descend BC
32 – 35 extra summit days
36 – trek Phu 4000m

37 – trek Junam Goth

38 – trek Koto
39 – drive Kathmandu
40 – Kathmandu
41 – depart Kathmandu

Preparations
You need to be very fit for this expedition. You should begin training several months in advance. Climbing to 7000 meters requires high cardiovascular health. Do get in touch with Luke for important details on this.

Our Attitude
We approach an expedition with a serious and focused intent to help you accomplish your goal. We strive to maximize your potential enjoyment, without comprising safety.
Interested in climbing Himlung?  Get in touch.