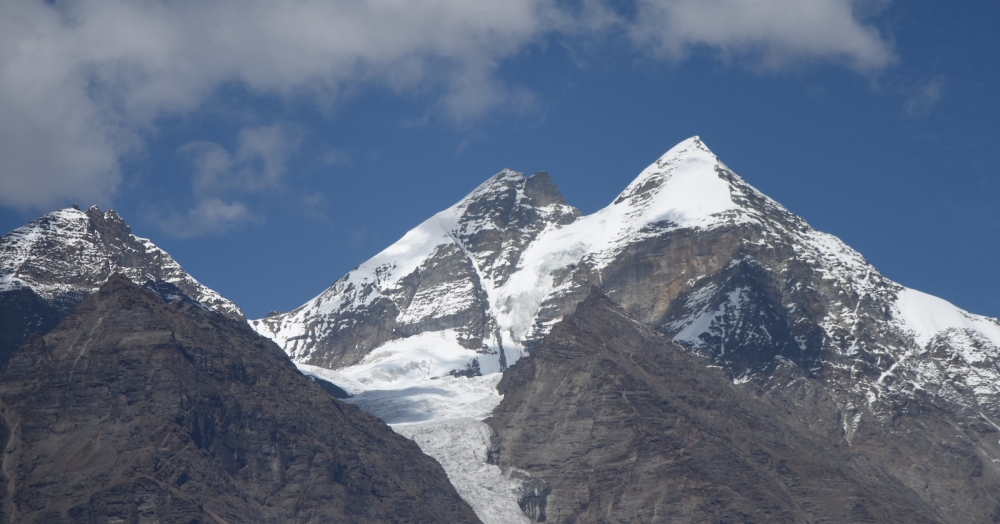 The Chandra Tal region region is located in India's Pir Panjal range, with most people visiting the region to view the Chandra Tal Lake. We begin in Manali, journey overland to Darcha and the Baralacha La, and then trek into this wild region for an intermediate/advanced peak climbing trip. Luke Smithwick will be guiding this trip, instructing in climbing skills, and guiding on the peaks. This is a great first Himalayan experience, and also a new one for the Himalayan veteran. All in two weeks. Join us.
Cost Effective. Full Service. This peak climbing trek will be fully stocked with a variety of meals for breakfast, lunch, and dinner, along with snacks. Each member will have their own roomy 2 person Mountain Hardwear tent (4 person tent for couples). Meals are oatmeal, eggs, muesli, fruit, and tea/ espresso coffee for breakfast. Lunches are fresh fruit, salads, fresh bread (made each morning), cheeses, pasta/rice, cookies, and juice. Dinners are usually 3 to 4 dishes, with pasta or rice. Occasionally, we will have pizza and other western treats. The dining tent is set up with each member having their own camp chair, books pertinent to the trek/climb, maps, solar charging for electronics, and snacks as you would like them when we arrive to camps.
First Ascents in Himachal? For many of the peaks in the Himachal there are no records of prior ascents. We also oftentimes find no evidence of other humans visiting the summits of peaks before. Instead of looking at these peaks as our being the first to put bootprints on the summit, we like to simply enjoy the solitude of the region.
Trust. Climbing a peak at 6000 meters is no place to be short on resources. We make the proper advance preparations to ensure that our team will be properly cared for, from airport to summit to airport.
Features
>Pir Panjal 6000m mountaineering
>Spectacular camps in remote grassy meadows next to snow melt streams
>Team mentality
>Instruction in mountaineering for those interested in learning or honing their skills in glacier travel, crampon technique, ice axe use, and the "nuts and bolts" of Himalayan mountaineering.
Guide
Luke Smithwick
---
day 0 – arrive Delhi
1 – arrive Manali 3500m – 22 August 2018
2 – drive Darcha
3 – 12 exploratory days
13 – drive Manali
14 – depart Manali – 4 September 2018
3 nights hotel in Leh (single supplement)- Hotel Johnson Lodge
All other accommodation while present on scheduled trip itinerary
Ground transportation by private vehicle
'Himalaya Alpine Guides' Expedition style peak scrambling trip: Delicious meals, french press coffee and herbal teas, all horse porterage on approach/retreat, local guides and staff, Mountain Hardwear expedition tents, equipped dining tent, experienced western guide (Luke Smithwick)
Goal Zero Solar charging for electronics
Trip/medical/rescue insurance
International flights
Meals while not on trek (Leh)
Personal climbing equipment
Puja cost (allow US$15)
Items of a personal nature (laundry, bar bills, gratuities, etc.)
Price US$2,890

India
14 Days
22 August – 4 September'18
Trip deposit: US$500

Jullay and Namaste.